Museum of Scottish Country Life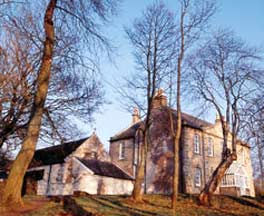 Escape all the hustle and bustle of the countryside and enjoy a great day out at this fantastic working farm and museum, set in 170 acres between East Kilbride and Glasgow. Explore the galleries and find out how people lived and worked in the past and how that has shaped the countryside of today. Take a ride in a tractor trailer up to the Georgian farmhouse and take in the sights, smells and sounds of a 1950's working farm, complete with dairy cows and sheep. The Museum shows how country people lived and worked in Scotland in the past, and how this has shaped the countryside of today. The Museum is the result of a unique partnership between the National Museums of Scotland and The National Trust for Scotland. The site includes an exhibition building and the original Georgian farmhouse and working farm.
When you visit you take a trip back in time to a period of history when traditional farming with horses was being replaced by tractors and combine harvesters. There is plenty for families to do, including farm trails and fun filled backpacks for kids. The Museum of Country Life has extended the work of the former Scottish Agricultural Museum, founded in 1949, latterly located within the show-ground of the Royal Highland Agricultural Society for Scotland at Ingliston, west of Edinburgh.
Other Attractions of England